When I was a little girl about 6 or 7 years-old my grandmother gave me this red change purse.  It was a hand me down that she said I could play with. The minute I had it in my hands I began to fill it with coins that I found and ones given to me by my parents.  Eventually my little red purse filled to the brim with money.
This was when I discovered I had a knack for saving.
My great saving habits carried on into adulthood and life was pretty easy breezy money wise until I became a mother.
Being a mom handling the responsibility for another human being was hard.  I had to learn how to juggle everything including money.
I had to do something.
Budgeting, feeling like a chore at first, became a workable and valuable option quickly lifting the stress from my piggy bank.
I believe anyone can be sufficient at managing his or her money.  It takes setting financial goals and following a simple budget.  Don't allow road blockers such as fear, negative thinking or poor financial planning keep you from visualizing your goals being turned into reality.
Work on Conquering Your Fears About Money
Fear of not having enough money can paralyze you.
Whatever personal money crisis you are holding onto let it go.
Letting go will allow you to start moving toward repairing your finances.  Where you are now is so temporary.  Regardless if it's debt or bills once you stop dwelling on it it will start to dissolve.
Fear only has power because you give it power.  Don't' feed the fear and it will disappear.  Work on conquering your fears by knowing you are in control and your situation can and will change.
You will be okay.
Decide to Think Positive Before Creating your Budget
Negative thoughts will eat at you if you let them.  Trust me I know.  Last summer when I lost my job I was dwelling on the fact that I had zero dollars saved up and let it eat at me every waking day.
Okay, so I had no money so what.
Thinking about it every day and making myself sick wasn't solving any problems so why do it, what was it costing me?
Once I came to this realization I decided to take a different approach.
I focused on the positive things in my life and this created more positive thoughts and invited more prosperity into my life and not long after a great paying job.
You cannot allow negative thoughts to consume you or they will eat you alive and get you nowhere.
It may sound crazy to think positive when your current financial situation looks so bleak.  One day just genuinely give it a try and you will see things start to turn around.
Get Ready to Create Your Budget
Once you conquer your fears and begin to think positively you are ready to take action.
Start with constructing a simple budget.  Make a list of all your expenses and bills for the month.  Include your savings too.  Add up the amount to get a total.  Now subtract that number from your monthly earnings.  The amount you have left over is your free money, money you choose to spend as you please.
By creating this budget you get all your bills paid, daycare, groceries, gas/bus fair and savings.  Now your family and you can enjoy a weekend out with your free money or indulge in a new pair of shoes for you.
You get to see clearly where every cent is going and being accounted for.
You don't want to over spend on school clothes for your little ones and forget to set aside enough to pay the car note.  If your car got repossessed you can't make it to work, you lose your job and lose your money.
Avoid these from happening by keeping a budget. You will be surprised how your finances function better when you plan ahead.  If not convinced then just give it a try.  Try it for one month and see how much of a difference it can make in your wallet.
This spreadsheet is my favorite.  There are no monthly fees and you can use it over and over again.
Click the link below to download a free demo:
Click here to visit Simpleplanning.com.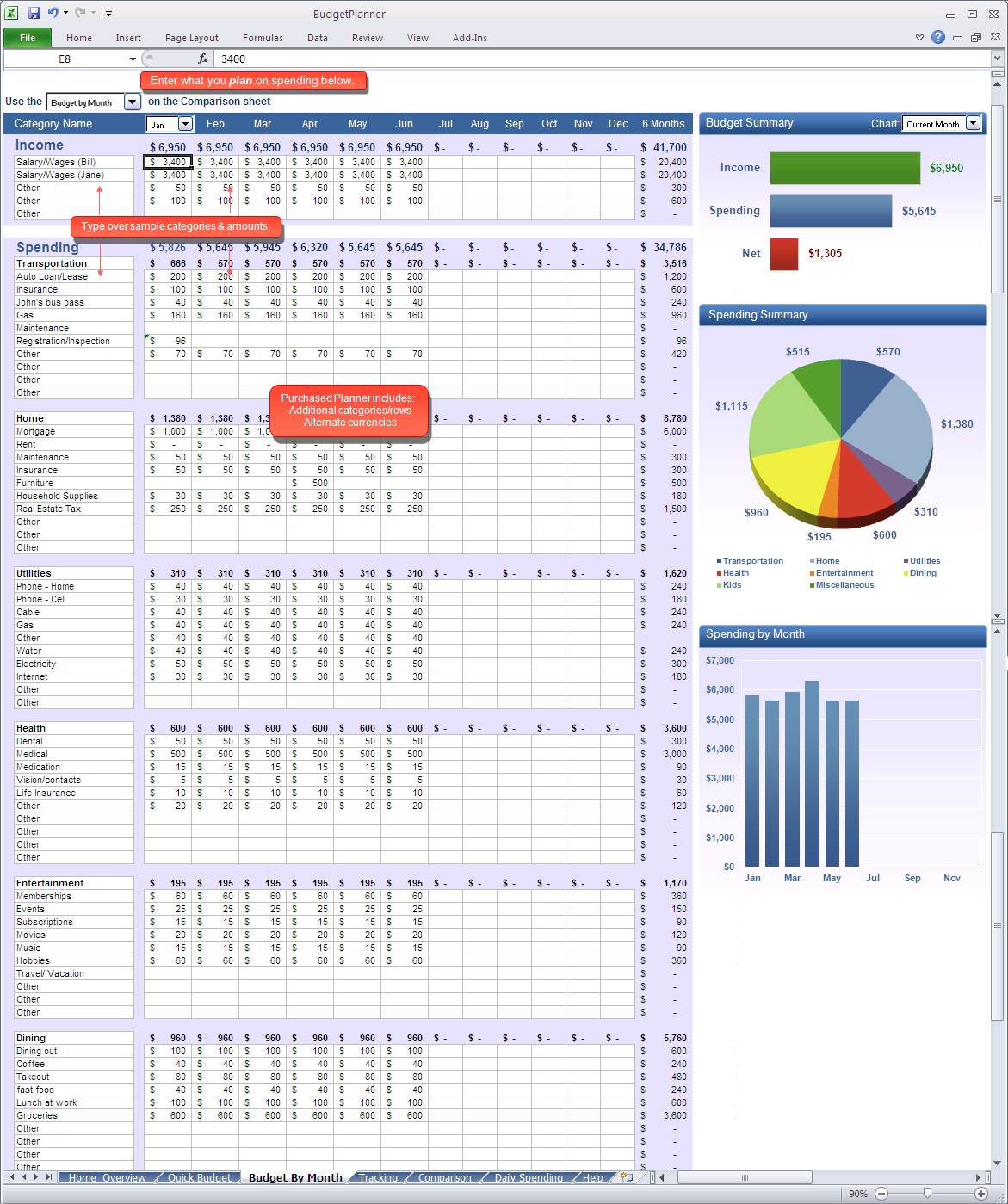 And you can always create your own spreadsheets by using Excel.
Remember…
Creating a budget may sound like a chore or pain in the-you-know what.  On the other hand dealing with a low bank account and credit card debt can be a bigger pain.
Start handling your finances responsibly and watch your money grow.
What do you feel is holding you back from starting a budget?